We conducted an exhaustive examination of the services offered by www.writescout.com, employing our well-established evaluation procedure. To probe the site's competence, we selected the essay subject, "Alterations in Marine Biodiversity as a Result of Global Warming and the Consequential Impact on Marine-centric Industries." Our standard evaluative criteria were applied: Academic Level – Junior (3rd year), Time Frame – 3 days, and Length – 3 pages. Furthermore, we specified that the essay was intended for submission to Wilfrid Laurier University, Canada. As you may discern, our goal was to maintain uniformity in the task specifications across the various services under review, covering essay subject, academic level, length, and time frame.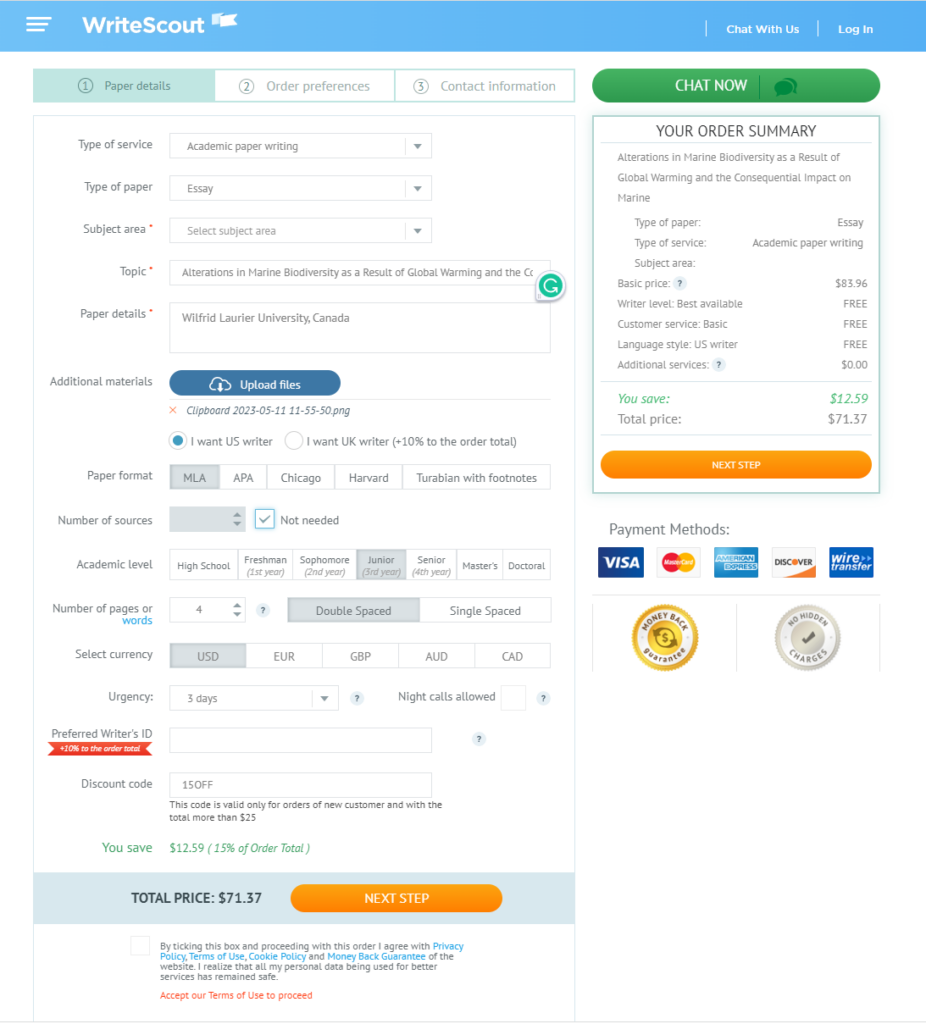 The user interface of the website was satisfactory, although not the most impressive we've encountered, offering sufficient clarity and simplicity to facilitate order placement and payment in less than 5 minutes. The service accommodates a variety of credit and debit cards, such as Visa, MasterCard, American Express, and Discover.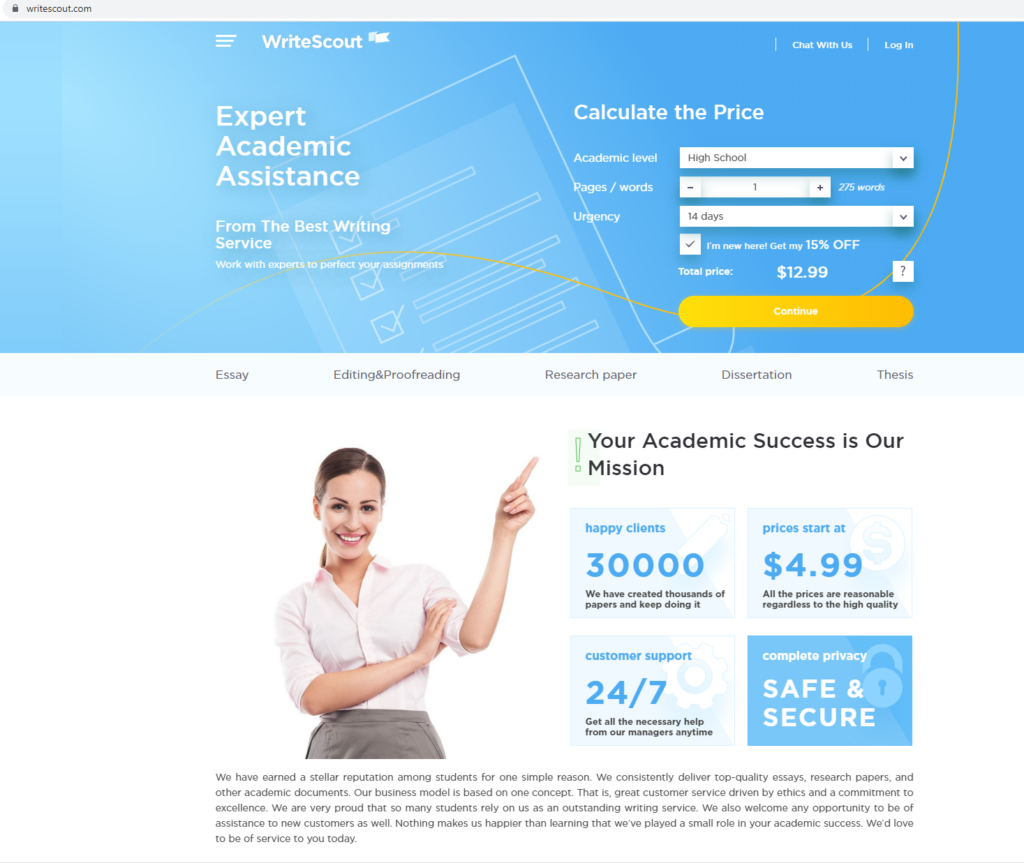 The essay was returned within the agreed time frame, a full 2 hours ahead of the final deadline. On receipt, we executed our standard practice for a review – we engaged the support team via their on-site chat feature, requesting further explanation on the topic, specifically the disturbance to the marine economy due to global warming. This interaction enabled us to gauge the efficiency and responsiveness of the support team.
Subsequent to our chat, we dispatched a follow-up email, as we do with all services, containing several additional, essay-specific inquiries. WriteScout's support team furnished elucidative responses within a remarkable 2 hours – a response rate that pleasantly surprised us in comparison to other essay writing services we've evaluated.
Following this, the WriteScout team incorporated the suggested amendments to the essay at no extra charge, within a span of 36 hours. We subsequently submitted the revised document to a consulting professor for review, as per our norm. The professor awarded the essay a score of 9 out of 10, with a few comments, notably applauding the writer's profound understanding of marine biology.
Based on our experience, we identified the following strengths and weaknesses:
Strengths
Exceptional writing quality and comprehensive coverage of essay topic.
Remarkably swift customer support and response time.
Competitive market pricing, which is commendable.
High-quality amendments made during the follow-up.
weaknesses
Absence of popular Canadian payment methods, such as PayPal and Interac
The website design is somewhat disorienting.
Reviewers Verdict
We assign a rating of 9 out of 10 to the service provided by www.writescout.com, lauding it as a top-tier, dependable option. We advocate this service for students across various nations, including Canada. The platform's most proficient writers shine in the domains of biology, economics, and mathematics.