Introducing GradeMiners
GradeMiners, with a presence in the essay writing domain, has received varied reviews from its users, swinging from accolades to criticisms. Dive into this assessment to discern if they genuinely measure up to their claims.
Review of an essay writing platform
The GradeMiners platform is sleek, modern, and user-friendly, placing essential features like service listings, guarantees, and a handy pricing calculator at the forefront. Their digital presence commenced in 2009, indicating a sturdy standing in the industry. Regular offers and substantial discounts for bulk orders make them an attractive option.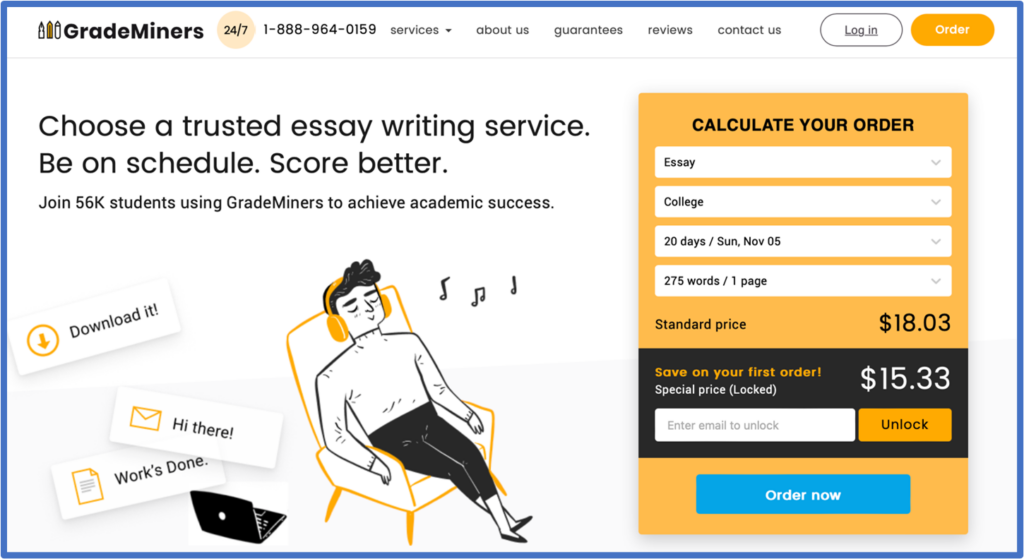 A subsidiary of BrainUp LTD (earlier known as WritePerfect LTD) – a UK-based conglomerate operational since 2005 – GradeMiners is one brand under a large umbrella that includes other players like PaperNow.org and MasterPapers.com. This conglomerate approach does bring concerns of uneven service quality across the board; a sentiment echoed in some of GradeMiners' outputs.
Essential GradeMiners Insights
Presence in the Market: While GradeMiners may not dominate the essay service industry, they have amassed a commendable clientele backed by a proficient writer fleet, hinting at a rising star status.
Website Dynamics: Their site is aesthetically pleasing and functional, highlighting vital data and making navigation a breeze.
Writer Pool Diversity: They house a blend of ENL and ESL writers alongside experienced academic professionals. While this variety can mean broader expertise, it also points to potential inconsistencies in paper quality. Nonetheless, their team covers a gamut of subjects from Humanities to Medicine.
Pricing Dynamics 
The cost per page starts at $11 and can go up to $45, determined by the urgency. With a significant 2023 revamp, GradeMiners ditched their fixed pricing page in favour of a dynamic pricing calculator. While convenient, some users prefer standardized pricing for transparency. They've introduced enticing discounts like a special 15% off via email. However, compared to market averages, their rates might be steep for budget-constrained students.
Service Quality
GradeMiners positions itself as a trustworthy destination for academic assignments. However, the quality metric hinges significantly on writer selection. They categorize their writers as:
Best Available: Immediate experts in your domain.
Top Writer: The elite 30, costing an additional $3.98/page.
Premium Writer: The crème de la crème, the top 10, at an added $7.97/page.
While you might need to loosen your purse strings for the top-tier writers, GradeMiners guarantees aptitude across all price points.
Value-Added Features
The ordering process showcases a suite of enhancement services for your paper. Notable mentions include Plagiarism Reports, High Priority Status, and Quality Checks. However, some of these "premium" features are standard offerings in many other platforms, which raises questions about their pricing model.
GradeMiners Assurances
They've recently updated their refund guidelines, granting a 14-day window for smaller assignments and 30 days for larger tasks. While primarily transparent, the grounds for full or partial refunds have some ambiguities.
Online Standing
Their reputation online oscillates between extremes. Several grievances, especially on platforms like SiteJabber, highlight writer quality and punctuality issues. While the company does address some complaints, its general approach towards negative feedback leaves much to be desired.
Pros:
Regular and lucrative discount campaigns.
Expedited delivery with minimal revision needs.
Refreshed guarantees and vital customer service.
Cons:
Pricing on the higher side.
Absence of a standardized pricing table
Mixed reviews and occasional lapses in addressing customer concerns.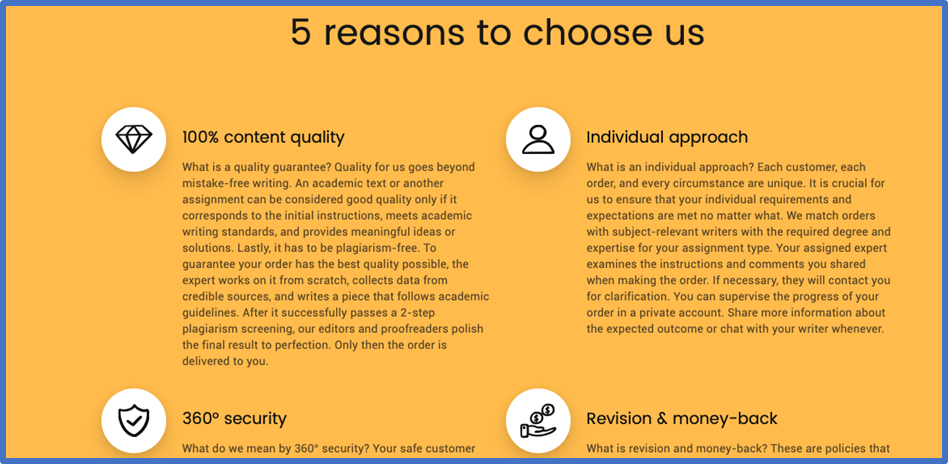 Final Thoughts and Recommendations
GradeMiners exhibits glimpses of excellence, especially with the latest website enhancements and enticing discount structures. Their approach to cater to the modern student is evident, making navigation and service understanding much smoother. Nevertheless, a few critical areas warrant attention to rise to the top tier of essay writing services.
Primarily, while competitive for some, their price structure can deter a considerable segment of their target audience, especially those with budgetary constraints. Ensuring more transparent and affordable pricing might widen their appeal.
Furthermore, while every company will have its share of mixed reviews, the onus is on GradeMiners to strategically address and learn from feedback, ensuring recurring issues are ironed out. The hallmark of a great company isn't just in the number of positive reviews but in how it grows from criticism.
To prospective users, while GradeMiners could be a viable option for non-essential tasks, exercising caution and thorough research is recommended. As the brand evolves and addresses its challenges, it might soon emerge as a go-to solution for academic assistance. Until then, a cautious approach is advisable.