www.customwritings.com at a Glance
CustomWritings has made a name for itself in the custom writing service industry. Its user-friendly website, equipped with an array of features like a free plagiarism checker, price calculator, and samples of their work, indicates the brand's intent to prioritize user experience.
As part of the ONE Freelance Ltd family, which also operates well-known platforms like EssayShark and Bid4Papers, CustomWritings has a significant lineage. The group underwent a significant digital revamp in 2023, bringing about aesthetic changes, though the core service quality remains relatively consistent.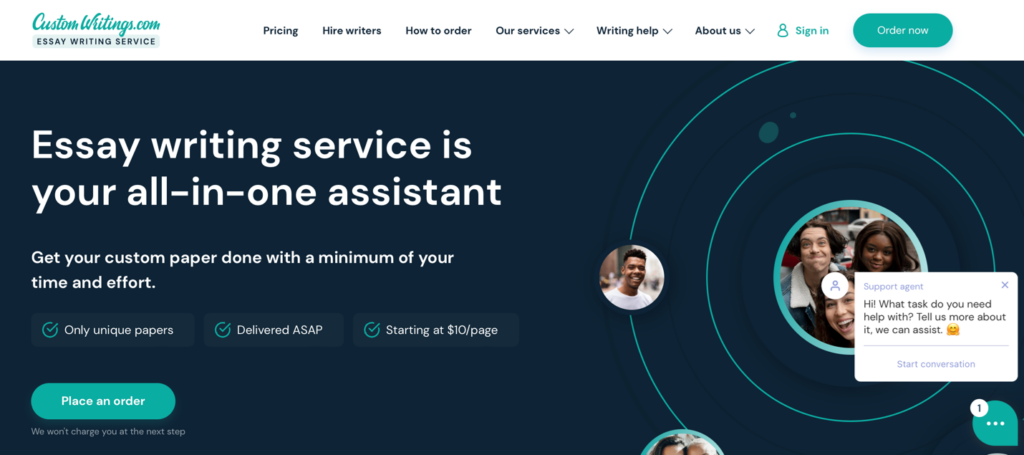 Delving into CustomWritings Services
Offering a wide range of academic services, CustomWritings specializes in crafting custom essays tailored to individual requirements. The platform differentiates itself from a conventional approach, automatically assigning writers to projects, resulting in a fixed pricing system. Unlike their sister platforms, which rely on a more fluid bidding system.
While there are concerns about the consistency of paper quality, many patrons commend their punctual deliveries and commendable customer service. However, the final product's quality hinges on the writer handling your order, suggesting a possible variability in results.
Pricing Insights
CustomWritings' pricing structure varies based on numerous factors such as academic level, urgency, and type of paper. With a price spectrum ranging from $10 to $72 per page, there may be more economical options, but as they aptly point out, quality writing warrants a reasonable price.
Interestingly, they impose a surcharge for assignments deemed "complex," covering subjects like Finance, Mathematics, and Computer Science, among others. This differentiation seems justifiable considering the specialized knowledge and research depth required for such topics.
Loyal clients can capitalize on their flexible discount system, potentially enjoying up to a 15% lifetime discount.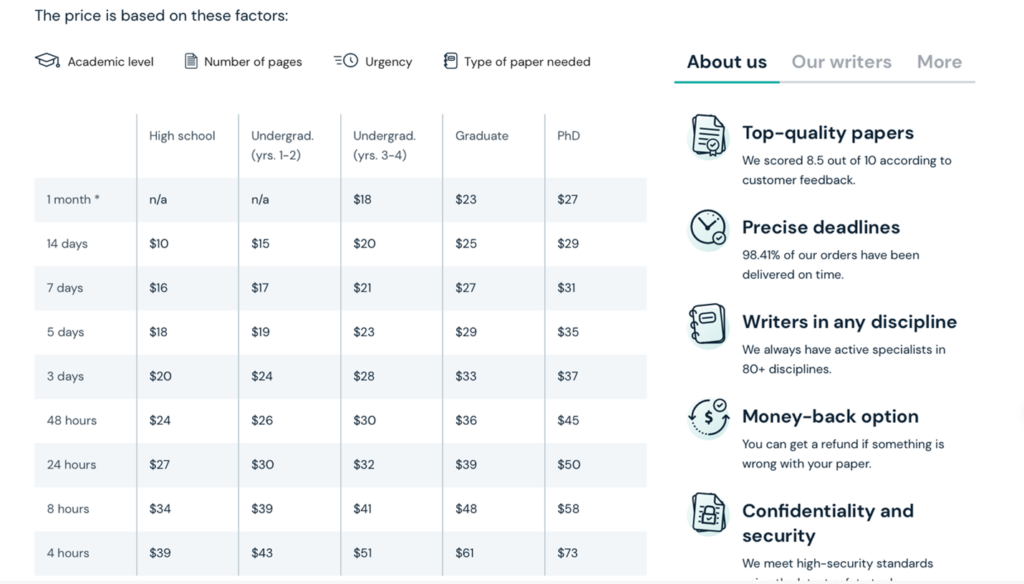 On the Quality Front
There are some concerns about paper quality. However, by investing more, clients can opt for specialized writer preferences, such as Native Speakers or Top 10 experts, to enhance the output quality.
They also offer add-on services like smart paper annotations and source copies, though some believe certain additions should be complementary.
Noteworthy Features
CustomWritings introduces a progressive delivery option, catering mainly to extensive orders with more extended deadlines and values surpassing $200. Although it has a slight premium, it incorporates payment breakdowns, advanced planning, and extended revision periods.
Their seamless payment process accommodates popular methods like PayPal and major credit cards. Additionally, their refund and revision policies lean towards being more customer-centric, which is reassuring.
Online Standing
Having faced a flurry of criticism in the past, particularly around 2010, CustomWritings has shown resilience by addressing prior challenges. They've undertaken considerable improvements; while there's room for growth, they're on an upward trajectory. Today, they are perceived as legitimate entities, delivering commendable services to many satisfied customers.
Strengths:
Competitive pricing within the industry standard.
Comprehensive guarantees focused on client satisfaction.
Option to hire native writers for enhanced quality.
Demonstrable commitment to service improvement.
Areas for Improvement:
Some add-ons that are typically free on other platforms come with a charge.
Being part of a multi-site conglomerate could influence service consistency.
Final Thoughts
CustomWritings presents a blend of affordability and quality. They've made strides in addressing past criticisms and continue to prioritize their customer's needs. While they still have milestones to achieve in service perfection, their commitment to improvement is evident. Exploring other services might be worthwhile for those on the fence, but CustomWritings remains a noteworthy contender in the custom writing space.